Journal of Architectural Education, v. 74, n. 2: Othering
Peer-Reviewed Journal Article, October 2020
This "micronarrative" is a critique of architecture's aporia around cross-industry solidarity. Due to the posture and rhetoric of professionalism, architects have too often been unwilling and unable to form relationships of solidarity with other parties involved in the making of buildings. If we are to transform the processes of design and construction to address the urgent challenges of the present, solidarity with these "others" will be necessary. Analysis of an article discussing the construction of the Federal Reserve Bank of Minneapolis (FRBM), designed by Gunnar Birkerts and Associates, illustrates some of the tensions caused by class hierarchies and subordinations within construction, while also revealing opportunities for stronger, industry-wide bonds.
Steelworkers tension one of the suspension cables supporting the FRBM office tower, April 1971.
Flying Panels: How Concrete Panels Changed the World
Book Chapter, 2019
This text was written for an exhibition catalog on concrete panel architecture, and discusses the ideological reasons behind the comparatively small number of such buildings in the United States. I argue that the consumerist braiding of personal identity with one's choice in housing led to a representational problem for concrete panels that was exacerbated by anti-Soviet propaganda. Calls for greater efficiency in construction did lead to the adoption of concrete panels for housing aimed at particular constituencies—the itinerant, the elderly, and the poor. I discuss one governmental attempt to encourage their use in housing construction at length: the Department of Housing and Urban Development's program "Operation Breakthrough," which ran from 1969 to 1974. Under this program, HUD commissioned dozens of demonstration buildings to show the potentials of innovative construction techniques like concrete panels. In the end, I conclude, panels found their most widespread use in college dormitories and in housing for the elderly.
Photograph of Hyman/Rouse-Wates Panel Factory in Edmonston, Maryland, early 1970s.
University of Michigan
Ph.D. Dissertation, 2015–2018
Beginning with the first critical analysis of the buildings and design practice of important Detroit-based architect Gunnar Birkerts, my dissertation addresses the conventions of architectural practice and the ways in which they underwrite claims to authorship posited by firm figureheads like Birkerts. Examining archival materials related to five key projects spanning twenty years, I traced the development of Birkerts's firm within its disciplinary, professional, and social contexts. In doing so, I foregrounded often overlooked processes and protocols, and questioned not only the hierarchies of mainstream architectural practice but also the way they are obscured and reified in architectural history. I exposed the essential role played by firm associates, the reciprocal influences between client and architect, and the function of professional standards in enabling the signature of architects like Birkerts.
Construction photograph of Gunnar Birkerts and Associates' Federal Reserve Bank of Minneapolis by Schwang Studio.
Journal of the Society of Architectural Historians
Peer-Reviewed Journal Article, March 2018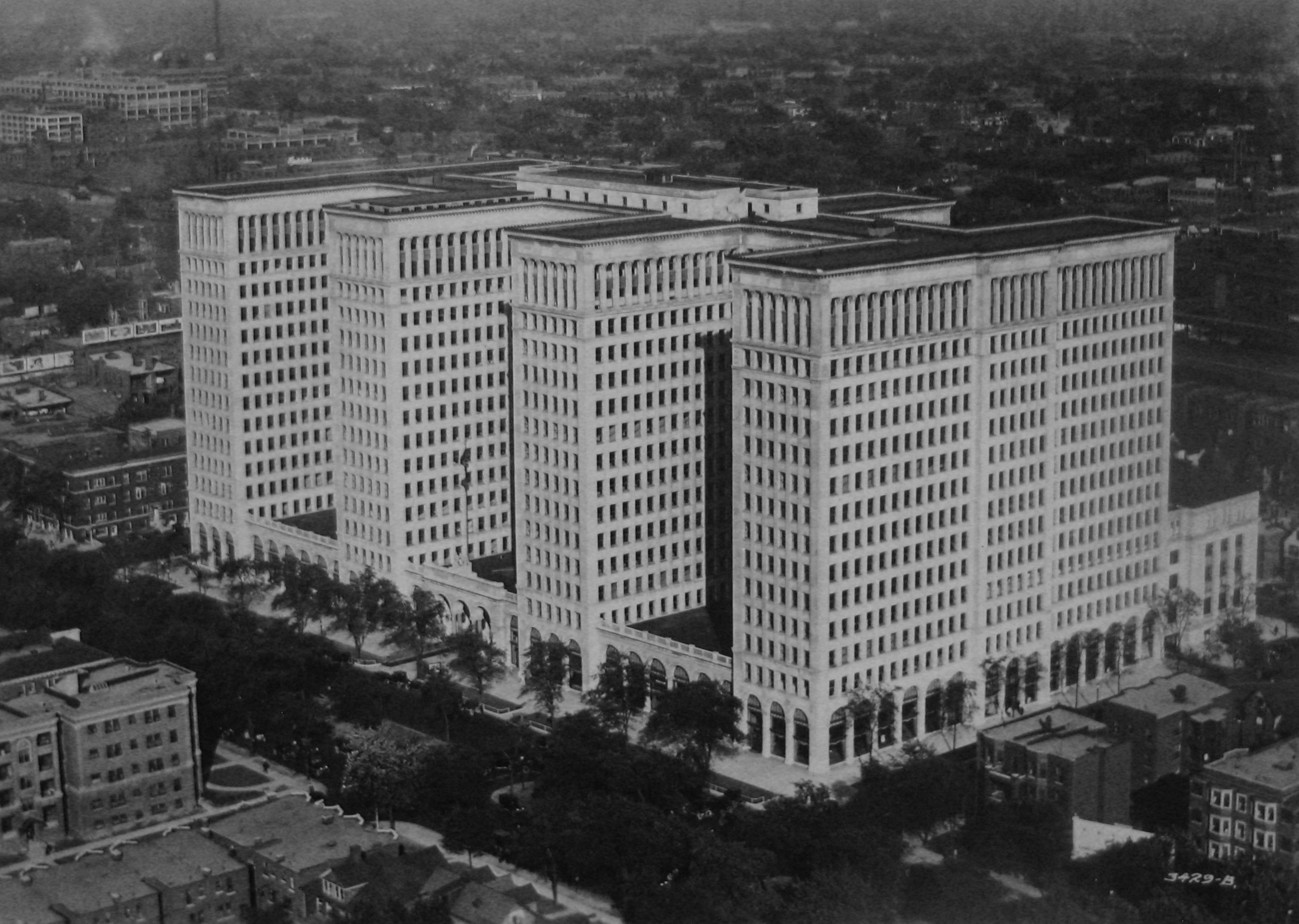 In the period between 1919 and '22, two events catalyzed General Motors' nascent dominance in the automotive industry: the company built a monumental headquarters in Detroit, designed by Albert Kahn Associates and located on what was then the periphery of the city; and a restructuring of the corporation was enacted at the behest of several newly appointed executives, including Alfred P. Sloan. In this article, I explore the conjunction between these events, arguing that both manifest a struggle with immense size. To cope with the bigness of buildings, corporations, and urban environments, GM and the Kahn firm developed strategies that set the agenda for architectural practice, corporate management, and urban development for the twentieth-century United States. Together, these strategies reveal the entwined forces that influenced the design of the General Motors Building.
Society of Architectural Historians Founders' Award 2020
Photograph from Albert Kahn Associates records, Bentley Historical Library, University of Michigan
Take Shape, v. 2: Commute
Journal Article, 2018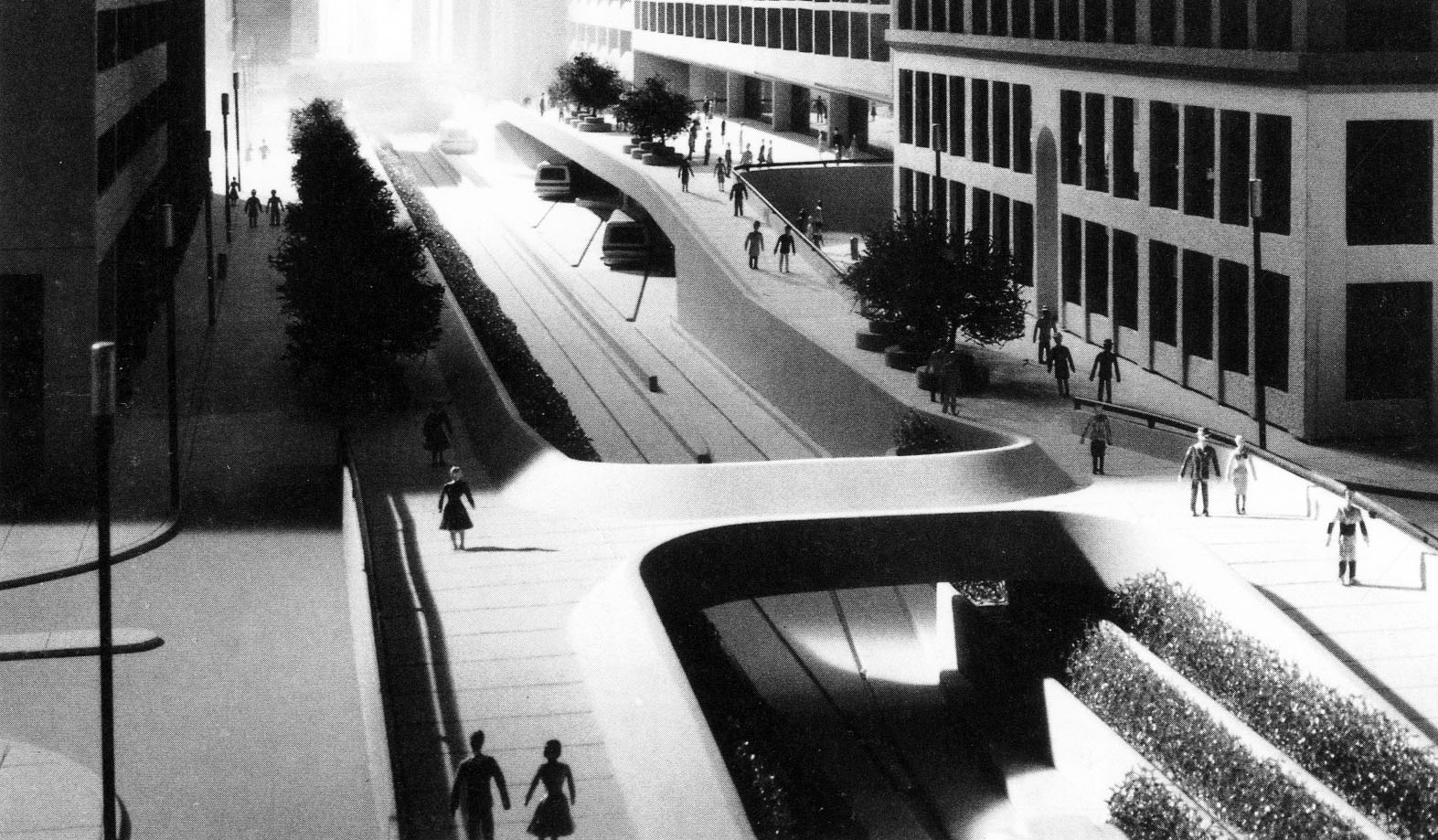 In response to a call for articles addressing the daily commute, I wrote an article that discusses two radical infrastructure projects for Detroit designed in the early 1970s by the architect Gunnar Birkerts. I offered these projects as models for the kind of visionary thinking that is increasingly necessary after decades of deferred maintenance and disinvestment has decimated transit infrastructure in some cities. They show that the infrastructure and transportation systems we have inherited are in no way inevitable—opportunities for dramatic rethinking do arise, and we must capitalize on them if we want to create more equitable and appealing urban environments. The seemingly imminent rise of autonomous vehicles offers exactly this kind of opportunity, and these projects show how radical we can and should be, particularly in chronically underserved cities like Detroit. Both Birkerts projects were in a sense "driverless." They freed commuters from the tyranny of other drivers—by relocating them underground, or by raising commuting lines above the fray. In recent years, autonomous vehicles have captured imaginations and investment dollars, and Detroit is again an important location for technological testing. But despite the long history of driverless technology and debate about transit priorities, this testing has so far been framed both ahistorically and apolitically. The article revisited two forgotten cases, hoping to reopen possibilities long foreclosed by political "realism." The visionary alternatives these projects offered remain potent images for radical urbanists.
Scale Model of Gunnar Birkerts and Associates' Dual Mode Transit Study for Detroit. Photograph by Balthazar Korab.